A new mobile games market – hyper casual – has exploded over the past few years. The data shows that hyper casual games generated over 37% of all mobile game downloads in 2022.
The growing and changing market, however, has led to new challenges. However, read the article to learn Hyper Casual Mobile Game Trends in 2022.
List of the Top Hyper Casual Games in 2022-23
Bridge Race
Build your bridge by running around like a crazy person and collecting blocks of your own color. Just don't let anyone else finish what you've started. Play this frantic, hyper-casual game and knock down players with fewer bricks than you to undermine their stacks
Farm Land 3D
Play as a farmer using joystick controls, and keep an eye on your farm. As your chickens lay eggs, ensure that your crops are watered and harvested. Gather twice as fast with a few farm hands and unlock more farmland.
Flipping Hero
The guards preventing you from reaching the dojo require you to flip jump right and left. Just ninja jump them to slice them through or jump into handy portals to outwit them and their bullets! Launching off buttons will give you an extra high flip, but keep your eye out for holes! 
Hair Rush
Take your character right and left picking up different colored pieces of hair and sparkles to grow and adorn your locks. Turn your long locks into high platforms, the longer your hair is, the better your chances of meeting your Prince at the tower.
Muscle Rush
Get all of the energy drinks and you'll be powerful enough to smash through steel plates, walls, and even characters standing in your way! You will become a muscle tornado for the final wall when you have all of the energy drinks.
Pocket Show
The show is on! There are 5 rounds in which you must beat your opponent and win the match. Let's take turns guessing the word, with just a hint to get you started.  This game show is right up your alley if you are someone who shouts the answers to TV quiz shows.
Run of Life
See your fortune unravel in front of your eyes by letting life run its course. You can pick up healthy goodies to keep you young while avoiding unhealthy obstacles that will age you. See if fate smiles on you and make sure you don't grow too old or it's already too late! Spin the life wheel and see if you're destined for success!
Sky Trail
You'll have to run through buildings with the gun of your choice, take out bad guys armed with frying pans and guitars, open loot boxes, fight bosses, and you'll have to get to the helicopter! 
Slice it All!
You'll be able to slice through multi-colored towers, pipes, pencils, and more while tapping flappy bird-style. Have fun!
Sling Birds 3D
Slingshots are loaded, so load yours up and tap to shoot the baddies below or the birds above. The more eggs you blast, the more wild birds you will hatch! Make the most of your limited shots by launching as many feathers as you can into the air.
Sticky Flip
You can stick it anywhere! Something incredibly sticky and wobbly that can attach itself to almost anything! You'll encounter a lot of obstacles if you take a look at the levels.
Sword Play! – Ninja Slice Runner
Swordplay, you are literally the sword! Ninja-style, you need to swerve and carve your way through the levels to reach the temple. Cut and swipe at the enemy before you are destroyed, smashing barrels and shurikens being thrown at you. 
Read More:- Popular Game Development Technology and Trends in 2022
Hyper Casual Mobile Game Trends in 2022: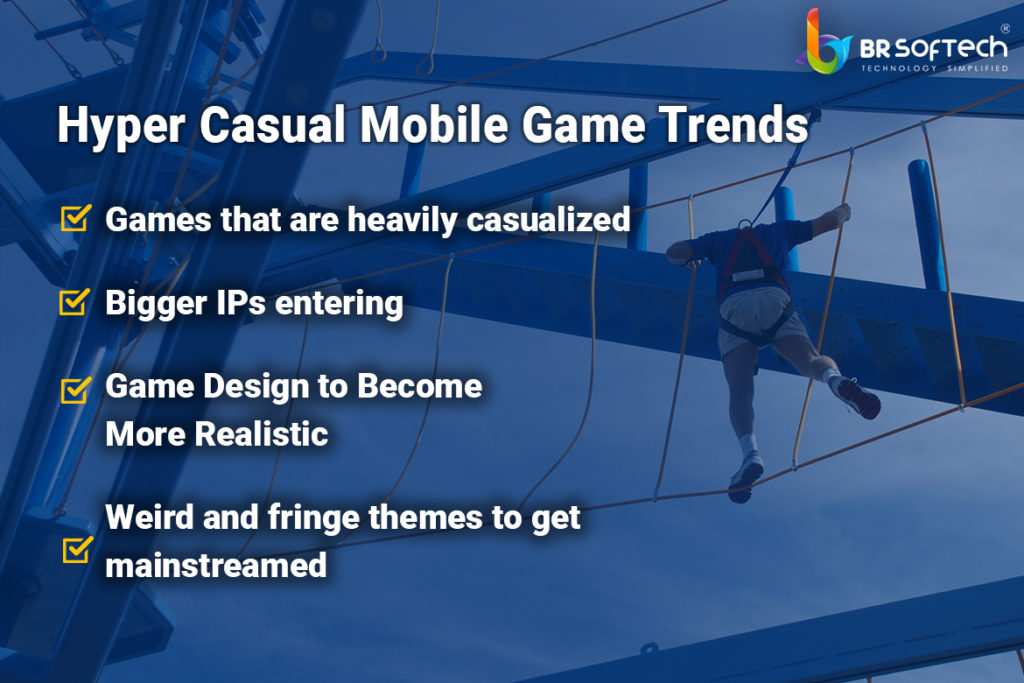 Considering these numbers, there is no doubt that hyper-casual gaming will thrive in the future. Next, let's explore the Hyper Casual Mobile Game Trends in 2022.
1. Games that are heavily casualized:
According to several industry experts, casualization will take place in two distinct ways for hyper-casual gaming. In the future, hyper-casual game trends are expected to become hyper-casual.
 As a result, the systems would be more complex, resulting in heavier games. Some features, such as hyper-casual gameplay, integrate different genres, such as mid-core and others.
According to experts, hyper-casual gaming or just casualization games is going to the opposite extreme as well. Games will be developed in a more casual manner. In this case, the players would have to have high skills, and the game would be more reflexive. It is said to be more accessible and easier for everyone, even if this goes against the original notion of hyper-casual gaming.
There should be an increase in both of these different types of games. Trivia and puzzle games will become more sophisticated and rich, yet they will retain their fundamental features.
2. Bigger IPs entering:
Developing new hyper-casual games using IP/Intellectual Property is another trend that the hyper-casual gaming industry is eagerly anticipating. It has been estimated that only 5% of hyper casual games used third-party IPs until 2020, but there is going to be a spike this year. This year, hyper-casual gaming will attract well-known and popular players.
Hyper Casual gaming can be the first step for many IPs. Several IPs that are already part of the casual gaming sector could benefit from a simple gameplay option, which would broaden the appeal of the game and allow it to reach a wider audience. We expect a number of powerhouse IPs like Family Guy, Harry Potter, Frozen, and many others to break the gaming market this year. IP-based brands with easy-to-play formats can increase brand awareness and loyalty, as well as sales.
3. Game Design to Become More Realistic:

The industry expects realistic gameplay to be another trend in hyper-casual games. As hyper-casual gaming moves toward realism due to the introduction of more complex game designs, the genre will become more realistic. This will now inspire game developers to develop more realistic games. Realistic games will also be updated. There will be a shift away from Hyper Casual Game Development now. Instead, they will be fine-tuned and have a more realistic appeal. This year, developers in the hyper-casual gaming market will incorporate several visuals that replicate lifelike scenarios in their games. Games will become more realistic as a result of this. Real-life destruction art games like Demolish are the best examples of this. Their destruction simulations are unbelievably realistic.
4. Weird and fringe themes to get mainstreamed:

Hyper-casual gaming is one of the most creative game genres. Over the past year, several games have moved away from traditional graphics and introduced many wacky and weird ideas that quickly caught the attention of users.
 As the stereotypical visuals disappear, the new norm is to seek something different. As of 2022, gamers are expecting zany, quirky, weird, and eccentric themes and designs to be delivered to highly engaged users. This will encourage gamers to play and discover.
Read More:- Upcoming Trends of Mobile Game Development: How it will Shape the Future of the Gaming Industry?
Why Choose BR Softech for Game APP & Software Development?
Hyper casual games are considered a safe bet based on the above trends. Contact BR Softech if you are interested in Hyper Casual Games App  Development and making a profit from it. They have created popular games such as Adventure Quest Battle Gems, Pro Feel Golf, Super Club Soccer, and Story Of Ancients. Find out more about their services, their long list of clients, and other achievements by visiting their website!
Admin

Source link