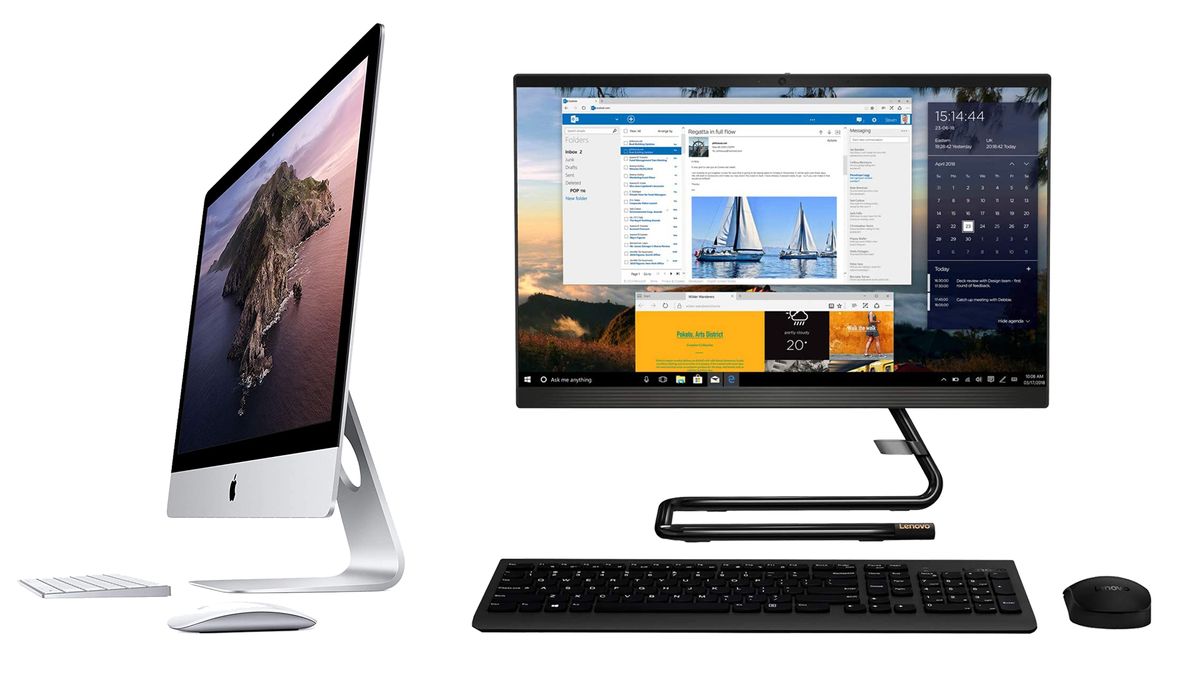 Now is the time to pick up one of the best home computers. Not only are many buying or upgrading their desktop PCs for home working, but it's also the sales season, and computers always get good discounts at this time of year. If you already know a thing or two about desktop PCs, you probably have a good idea of what you need. If not, let's quickly run through what you might need for your home computer.
When choosing the best home computer for you, the first decision is: Windows PC or Mac. There are pros and cons for both, but generally speaking PCs get you more power for your money, and the version of Windows 10 that is now standard with new computers is easy to use, and widely compatible. Macs, on the other hand, are more expensive but better designed, and the operating system on a Mac is slightly simpler to use. It also plays nicely with Apple mobile devices like iPhone and iPad.
Now, to the actual home computer itself. What you should look for is a PC or Mac with at least a 512GB SSD (Solid State Drive), which means your computer will boot up quickly, and manage files fast. 1TB or above is ideal, but more expensive. If you're using your computer for home working, we recommend you get an Intel i5 or i7 CPU – the i5 is fine for a PC that simply runs MS Office and web browsers, while an i7 is necessary for creative apps like Adobe suite, and any video editors you might run. While you'd struggle to find one with less, we recommend a PC with 8GB of RAM as a minimum, with 16GB or above as the sweet spot.
The rest is all peripheral. Most of the best home computers come with WiFi built-in, and many also come with a keyboard and mouse. They all have either Windows or Mac OSX installed. If you are not buying an all-in-one PC/Mac, make sure you budget for a monitor too (we recommend 27″ or above for home working). With all that in mind, check out the best home computers below, or look to our separate best laptops guide for portable PCs.
1. Dell XPS 8930 Desktop: Best home computer (Windows)
(Image credit: Dell)
Dell XPS 8930
The best desktop tower PC, which runs on Windows
OS: Windows | Build to order: No | Upgradable: No | Built-in screen: Yes
View at Office Depot
View at Walmart
View at Amazon
1 Amazon customer review
All-in-one
Major manufacturer
No upgrades
Poor graphics processor
Dell's Inspiron range covers iMac-alike all-in-one machines as well as traditional desktop tower computers like the Dell XPS 8930. While only the tower PCs offer build-to-order options suitable for gaming or other heavy graphics work, the all-in-one machines have fast 10th-generation Intel processors and solid-state flash storage. 
We're big fans of the Dell XPS 8930 thanks to its highly customizable, powerful hardware options and compact form factor (as for as tower PCs go anyway). While the tower PC aesthetic isn't for everyone, the Dell XPS 8930 has a sleek and professional appearance with a gloss black finish and very little in the way of garish bling that you might find on a gaming PC.
There are a few downsides to a tower PC over an all-in-one though, namely that you'll need to buy a monitor separately, along with a mouse and keyboard. They also take up more space than all-in-one PCs, but the trade-off comes in their flexibility and upgradability. You can easily add more RAM or replace the graphics card on a tower PC and that's where the Dell XPS 8930 excels. If you need a PC that can do it all, this is the one for you.
2. Apple iMac (2019): Best home computer (Mac)
(Image credit: Apple)
Apple iMac (2019)
The best home computer in 2020, especially for Mac fans
OS: MacOS (Windows optional) | Build to order: Yes | Upgradable: RAM only | Built-in screen: Yes
View at Amazon
View at Best Buy
Low Stock
View at Amazon
Complete package
Apple build quality
Expensive
Limited upgrade potential
You'll have seen the Apple iMac, in various forms since its launch in 1998, on innumerable TV shows and on the desks of everyone from CEOs to hairdressers. Essentially a screen with a computer attached to its back, its current incarnation, with screens up to 27in and with a slender, graceful design that culminates in a single aluminium foot, is unmistakable and much imitated.
In order to keep its thin profile, but still maintain desktop levels of performance, the iMac makes use of some portable computer parts, such as low-profile RAM modules. These don't have any effect on the computer's processing power (especially true of the iMac's professional cousin, the iMac Pro) and the large screen allows for decent cooling to be installed behind it.
Apple has always been one of the first companies to adopt new connection technology, and the two Thunderbolt 3 ports found on the back of an iMac are some of the fastest out there, capable of connecting both to fast external storage, or to an external monitor for even more screen space.
At the time of writing iMacs are available with 7th- and 8th-generation Intel processors, and start at $1,099 for a 21.5in model. 
3. Mac Mini 2020: Best compact home computer
(Image credit: Apple)
Mac Mini (2020)
The power of an iMac in a pint-sized package
OS: MacOS (Windows optional) | Build to order: Yes | Upgradable: RAM only | Built-in screen: No
Preorder at BHPhoto
View at Best Buy
View at Amazon
650 Amazon customer reviews
Tiny form factor
High spec possible
Poor graphics performance
Limited upgrade potential
Recently upgraded to double its internal flash storage, the Mac Mini starts at just $800. You'll need to add a monitor, keyboard and mouse to that to actually be able to use it, of course, and by adding options through the build-to-order website it's possible to spec yourself a decently powerful computer, as long as you don't need graphics processing performance – the mini is never going to be a games machine.
As with the iMac, the Mac Mini comes with Apple's MacOS operating system rather than Windows, although you can install Microsoft's OS if you want to. Choosing between the two is largely a matter of taste, with no single big feature one can do that the other can't.
The Mac Mini is at the bottom of Apple's range, and despite the build to order options it's never going to be the computer you want if your interests include 3D rendering or anything that needs a GPU. With an Intel 8th-gen eight-core i7 CPU, however, it will blitz its way through photo editing and any other CPU-intensive tasks with ease. It's the perfect home office machine, and also excels as a media center, connecting to a TV directly or storing your media on its large, fast SSD and serving it via a system such as Plex. And it's so small, you can easily keep it in a cupboard.
4. Lenovo Ideacentre: Best Windows all-in-one
(Image credit: Lenovo)
Lenovo Ideacentre
The best all-in-one PC for Windows users
OS: Windows | Build to order: No | Upgradable: No | Built-in screen: Yes
Check Amazon
Good looks
Powerful upgrades
Some poor CPU choices
Limited graphics processing
Lenovo's range of all-in-ones and desktop towers is broad, with some budget-friendly options mixed in with the more powerful offerings. 
Design-wise, we're big fans of the AIO A540, with its off-center supporting leg – a flourish that helps it stand out from the competition. If you need more processing horsepower, then the 720 tower is worth a look, offering plenty of RAM and storage, and a discrete GPU for gaming and video work.
If that's not your thing, then Lenovo's all-in-ones live up to their name. Screens measure in at up to 27-inch, and ninth-generation Intel processors mean Windows 10 performance is snappy.
There's a shark circling at the bottom of this particular pond. The Lenovo Yoga A series. It's an all-in-one like no other, with the option of i9 processors and up to 32GB of RAM, a 27-inch 4K touchscreen and large amounts of fast solid state storage. It's expensive, but if you're creating project-critical content from home, there's little to touch it outside the iMac Pro.
5. Alienware Aurora: Best gaming PC
(Image credit: Dell)
Alienware Aurora R9
If you're playing games, this is the PC to go for
OS: Windows | Build to order: Yes | Upgradable: Yes | Built-in screen: No
View at Amazon
View at Amazon
View at Amazon
Hugely powerful
Multipurpose machine
Expensive
Big and heavy
Alienware is Dell's gaming brand, but a gaming computer is just a well-specced machine that can do most things well. The PCs come as towers, so you'll need to factor in the cost of a monitor, mouse, keyboard and speakers/headset as additional purchases.
What you get, however, will blow away the other machines on this list. There's the option of a 16-core AMD CPU, for one thing, backed by up to 32GB of RAM and enough storage to amass a bulging game library. You can even specify dual graphics processors, but you'll pay for the privilege. 
The black Aurora towers aren't much to look at, there are no see-through side panels so you can take a look at your components humming away, but you do get innovative tool-free access to the innards, which are upgradable, and cooling that's so well thought out you might hardly notice the PC had been switched on.
Buying one of these is complete overkill for home office work, but for a genuine do-anything machine that will throw 4K video around and play the latest games as easily as it browses the web and fires up Word documents, then the Aurora range is hard to beat.
What to look for when buying a home computer
Speed & Power
If you think about a computer like a car, the processor is essentially the engine. They tend to have seemingly complicated names, so just keep in mind that generally a higher number means it's a faster and more powerful processor. The dominant manufacturers are Intel and AMD. Intel is better known but both make fine chips.
Another thing to look at is a computer's RAM – random access memory – which is the internal space your computer uses to accomplish a task. Everything you open and every app you use requires your computer's RAM. Storage, on the other hand, is the measure of how much data can be saved on your computer. In short, Microsoft Word uses RAM but the document you save goes in your computer's storage, whether hard drive or SSD. Having more RAM and storage is always a good thing but comes at a cost, so it's important to make your purchase based on what you're really going to use your computer for.
Aesthetics
The old days of having a tower and monitor are slowly but surely coming to an end for most basic home computer desktops. For our comparison, we stuck to models that didn't require an extra tower because we felt the average home user would rather have a compact unit. If you prefer, there are also a plethora of laptops that also work very well as a home computer, with the added bonus of portability. You can flip some laptops' screens all the way around to turn your traditional L-shaped model into a flat tablet, which can be really fun for kids. Most of the computers we tested are lightweight and aesthetically modern with curved edges and a slim profile.
Your screen resolution is important because it's what you're going to spend your time looking at. While 1080p used to be the standard, now many computer companies are gravitating toward an even better 4K display. A computer with 1080p resolution has a horizontal resolution of 1,920 pixels, while 4K has a horizontal resolution of 4,096 pixels and 5K has a horizontal resolution of about 5,000 pixels. As usual, bigger numbers are better.
Cost
You can buy a computer for work or personal use and pay anywhere from $300 up to several thousand dollars, depending on the hardware and peripherals you want. However, most options cost between $500 and $1,400 and offer you flexibility in design.
Asking for Help
If you're not a computer person, it's best to simply ask for help. Whether you're shopping at a big box store or a locally owned mom and pop place, the most expensive computer isn't necessarily always the best. It's important to let whoever you're buying from know what you want out of your computer so they can give you the best buying advice. If being able to play online games is a priority, you're going to want a different and probably more expensive computer than someone who just wants to use email and social media.
Accessories
Once you select a home computer, you can start shopping for accessories. If you opt for a laptop but don't love the keyboard or audio package, you can always buy another and connect it. A desktop computer is even easier to connect to the keyboard and mouse you choose.
After you set up your computer, you might realize your WiFi signal isn't as strong as it needs to be in some parts of your home. If you're experiencing connectivity problems, consider getting a Wi-Fi booster. We've reviewed some of the best home computer accessories on the market. Check them out here:
Round up of today's best deals
Dell XPS 8930 Desktop PC,…
Dell XPS 8930
Office Depot
$849.99
View
See all prices
Reduced Price
Apple iMac (21.5-inch, 8GB…
Apple iMac 21.5-inch (2019)
Amazon
$1,499
$1,429
View
See all prices
Apple – 27″ iMac® with Retina…
Best Buy
View
See all prices
Apple Mac Mini (3.6GHz…
Apple Mac Mini
Amazon
View
See all prices
Alienware Aurora R5 Intel…
Alienware Aurora R5
Amazon
$1,999.77
View
See all prices
We check over 130 million products every day for the best prices
View All Deals
powered by